User Guide
Rusklaviatura offers two services. Translit and Virtual Keyboard. You can select between the to using the top blue bar. (See Fig. 1)

Fig 1. Top menu
1. Select Translit (default when opening Rusklaviatura.com)
2. Select Keyboard emulator
Translit
Translit is a service that consists in writing in cyrillic using the equivalent latin letters or combinations. (See Fig. 2)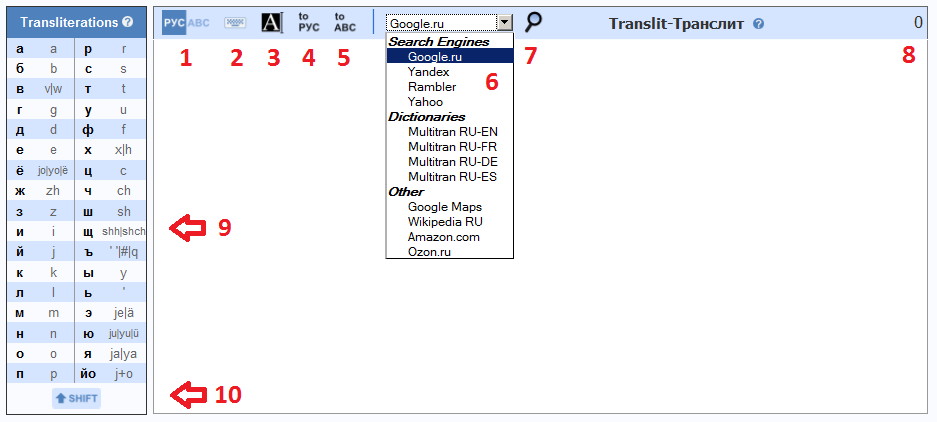 Fig 2. Translit overview
1. Toggle output language. РУС for Russian transliteration and ABC for English
2. Toggle helper keyboard. The helper keyboard allows you to input Cyrillic characters with your mouse.
3. Select all text
4. Convert selected text from Latin to Cyrillic
5. Convert selected text from Cyrillic to Latin
6. Select external service to query with the current text
7. Performs external query (opens in a new tab)
8. Number of characters in current text
9. Transliteration table with equivalent letters and combinations
10. Toggle upper/lower-case in the transliteration table
Keyboard emulator
The Keyboard emulator simulates an actual Russian keyboad layout. Instead of writing an equivalent letter, you must press the correspondent key in the Russian keyboard. (See Fig. 3)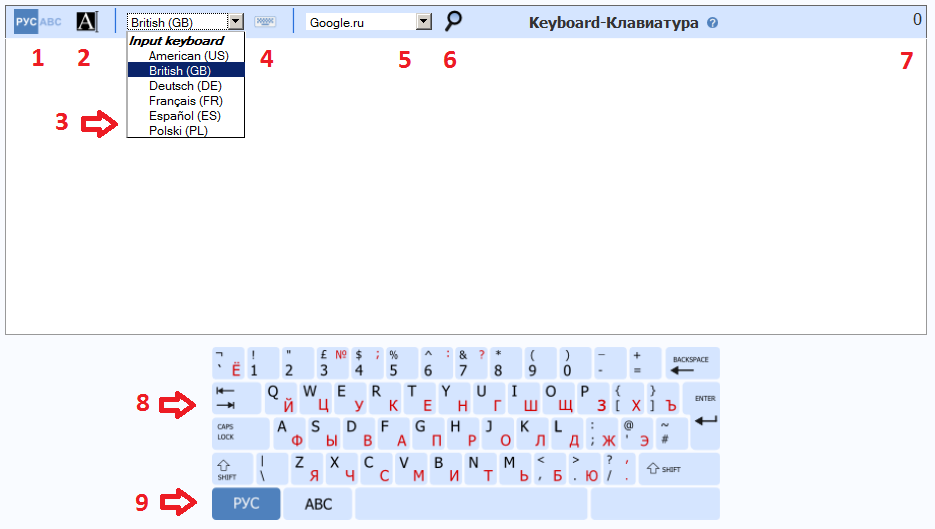 Fig 3. Keyboard emulator overview
1. Toggle output keyboard. РУС for Russian keyboard and ABC for standard keyboard layout
2. Select all text
3. Select input keyboard language (some letters may have different positioning depending on the input language, such as Y/Z in german or M/A/Q/ in French
4. Keyboard icon. Decorative purpose.
5. Select external service to query with the current text
6. Performs external query (opens in a new tab)
7. Number of characters in current text
8. Helper keyboard for the current entry language
9. Same as 1.